As my classroom has transitioned to anchor charts created with students, I've found less need for all the fancy posters I've purchased over the years. Check out how we made a mini-thesaurus from an old poster!
We used this poster, and it's been a huge hit!
This post contains affiliate links. I earn a small commission each time someone makes a purchase through one of these links. These commissions help support the blog. All opinions are my own.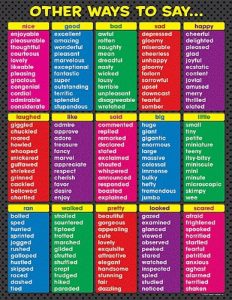 Click the picture to grab a copy!
I cut the poster apart into individual sections. I laminated each piece and punched a hole in the top.
I used a metal ring and ran it through all the cards to make a quick and easy mini-thesaurus!
These have turned into the most used "thesaurus" in the room! Kids use the heck out of these little guys…they take them off the rings and share them around and often kids are looking around to find them. (NOTE: the metal ring/lamination did not hold up as well as I would have liked, but they managed to get it back together with plenty – and I mean PLENTY – of Scotch tape.)
Which posters do you have hanging around that could get a new life??