Teaching about volume in upper elementary can be a blast! Learning about volume offers so many opportunities for hands-on learning and engaging activities. Let's dive into a few fun volume activities that are guaranteed to get your students pumped about volume! (There's a fun freebie at the end of this post – so make sure you read all the way through…)
This post contains affiliate links. As an Amazon Associate I earn from qualifying purchases. These commissions help support the blog. All opinions are my own.
Cube Building challenge
One of the key ideas for understanding volume is recognizing how it is measured. Being able to visualize how cubes are used to measure volume helps students better understand how the volume formulas work when they get there! And honestly – what's more fun than building with blocks?? Having your students do a cube building challenge or museum walk is a great way to use cubes to create objects and determine their volume in cubic units.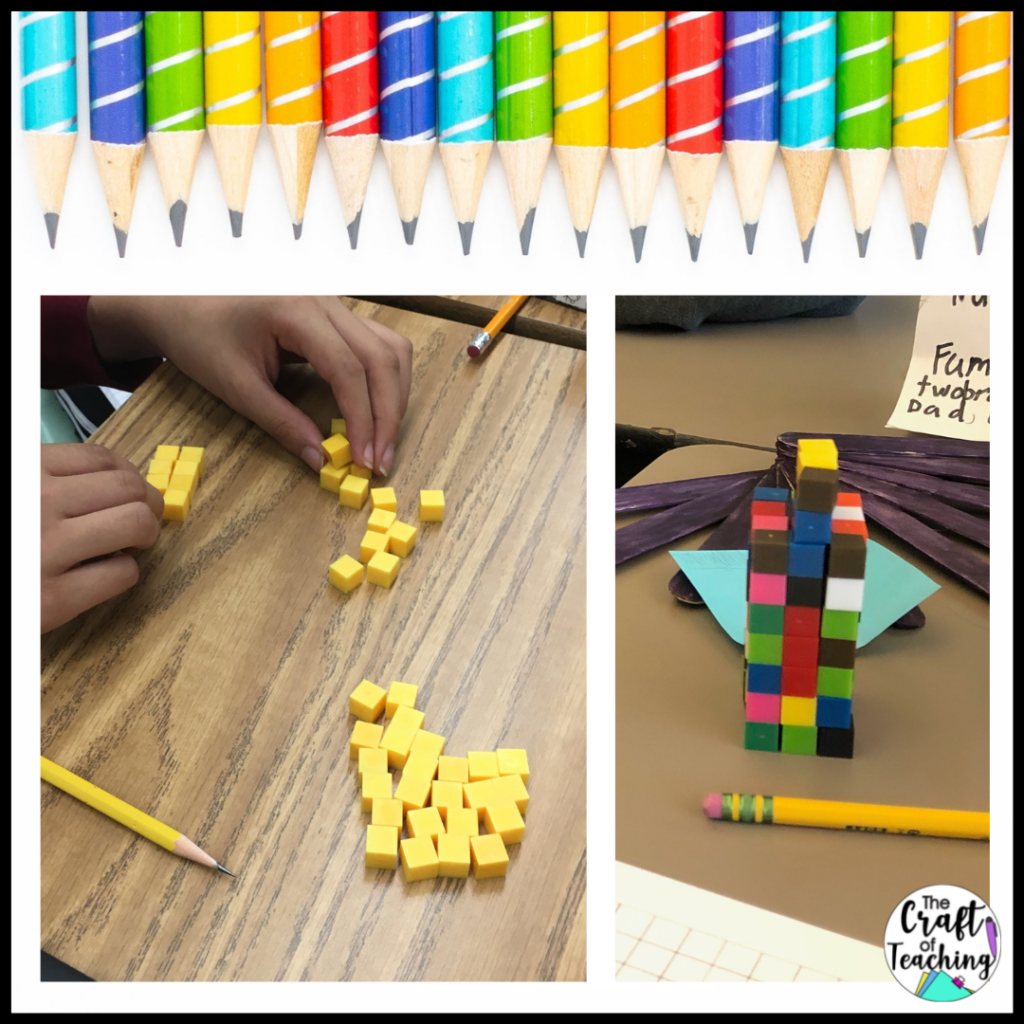 Give each group a set of centimeter cubes (or whatever size cubes you have on hand). Challenge them to build something that has a predetermined volume. I usually start small, and build from there. Then challenge them to build as many figures as they can with the same volume. Once they have had a few minutes to build, ask them to push in their chairs and do a museum walk. My students love seeing what other teams have come up with – then going back to their own seats and trying it themselves.
Another option is to give everyone a set amount of cubes and challenge them to build the tallest tower they can. Once they've completed their towers, they can work together to calculate the volume of the tower they built.
Volume scavenger hunt
A volume scavenger hunt is another fun volume activity! Send your students on a mission around the room to find everyday objects that have volume. In fifth grade, we look for right rectangular prisms. Once they find their objects, they use rulers or measuring tapes to determine the dimensions of the object and its volume. You can even make this into a game! Have students compare the volumes of their objects to see who had the largest one at the end. Either way, they love using the rulers, finding objects around the room, and working with a team!
roll a rectangular prism
Once your students have been introduced to the formula for volume, then they can play my students' favorite volume game – Roll A Rectangular Prism! The game is simple – and all you need is a recording sheet and 3 different colored dice. (To be honest, you can do it with one die and just roll three times, but it's fun if you have three different ones!)
Here's how to play:
Each partner rolls the first die. That roll becomes the length.
Each partner rolls the second die. That roll becomes the width.
Each partner rolls the third die. That roll becomes the height.
Each partner finds the volume using the dimensions they just rolled and records it on their recording sheet.
Then, partners compare the volumes. The person with the highest volume gets a point!
The person with the most points after 8 rounds wins!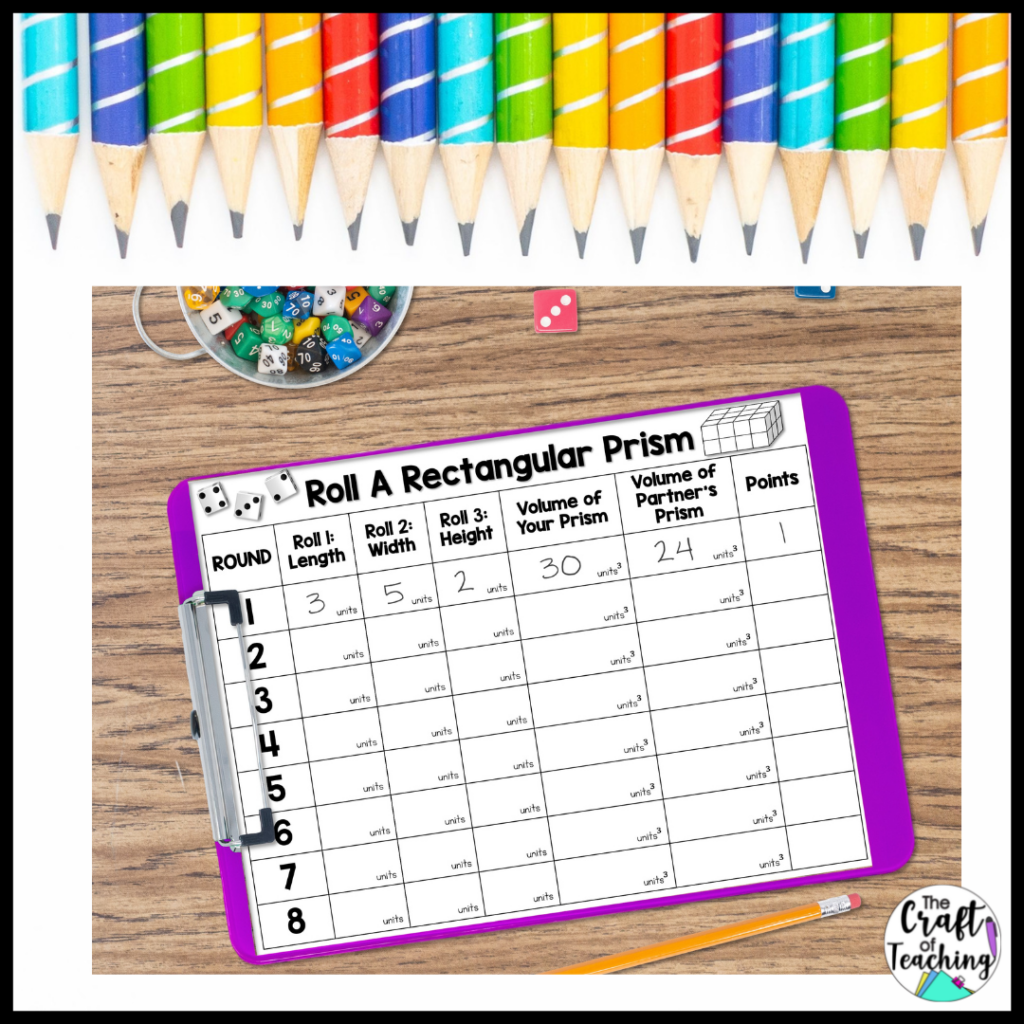 My class LOVES playing this game. I love it because it's easy to differentiate – you just need different types of dice! This pack has dice with up to 20 sides – so you can definitely increase the challenge while playing the exact same game. Virtual dice are also a no prep option!
You can also have students work together to combine the volumes of their rectangular prisms – just like they would do if they were finding the volume of a composite figure. They can use their recording sheet from before (or the individual one in the file) to combine the volumes of multiple prisms. (This one is mostly just for practice.)
You can grab everything you need to play Roll A Rectangular Prism (except the dice) right here and totally free! You will find recording pages, directions, and the extension activity inside.
If you teach 3rd or 4th grade – don't worry! You can play Roll A Rectangle to practice finding area with your class. All of the materials are included in the same file as above!
wrapping it up
I hope you enjoyed learning about fun volume activities for your class! Don't forget to grab your freebie and don't forget to VOTE for your favorite blog posts in our March Mathness tournament! Make sure you click the image below to find even more math freebies, blog posts, and to vote for your favorite March Mathness team!
I'd love to hear your favorite activity for teaching any measurement standard! Leave a comment below!