If you're anything like me, the end of the year feels like I'm heading toward the finish line with my hair, pants, shoes, EVERYTHING on fire. I always have big plans to do cute projects or fun activities, but I mostly just feel like I'm hanging on for dear life until 3:00 on the last day. I need EASY activities for the end of the year!
We all know how it is when we are just trying to squeeze in that last math unit, finish that read aloud chapter book, or get that last piece of writing polished and published. Not to mention the packing up, taking down, and putting away that always comes with the last days and weeks. I'm envious of the teachers with the cute crafts, and organized grade level activities – but it's just never been me.
I'm more of a "see-it-on-Instagram-the-night-before" and try it kind of gal. So, here are few EASY activities for the last days that take little to no prep!
Write Letters
This one does take a bit of time to complete, but almost no prep. My students have always enjoyed writing letters to next year's students. They typically give advice about how to be successful in 5th grade, how to keep their teacher happy, and any other things they think are important for the new 5th graders to know. I typically put the directions on the board, and we brainstorm a list of ideas that could be included in the letters. Once they are done, I keep them and pass them out to my new class in the fall. (IF I remember – which is a big IF sometimes.)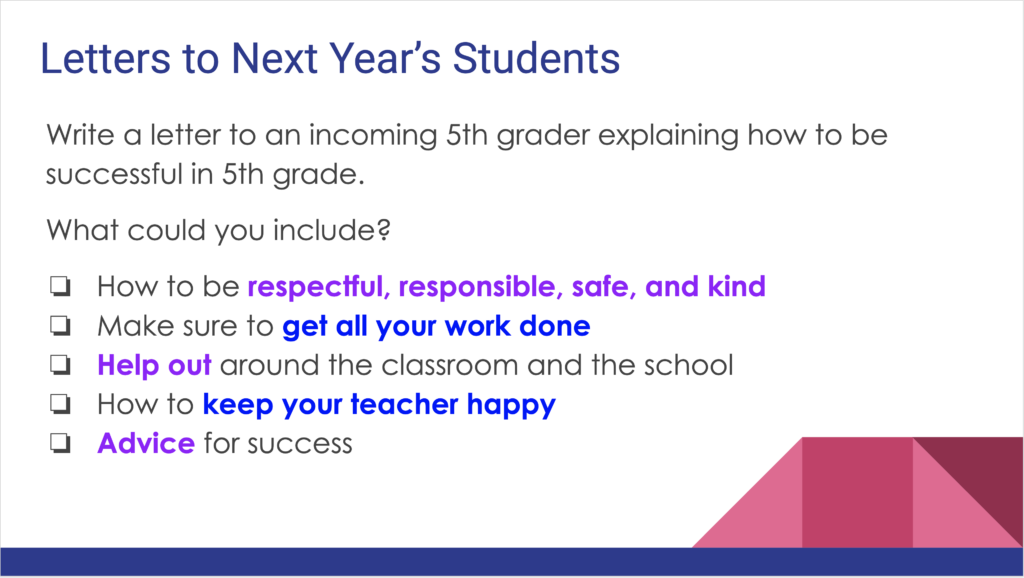 Gather Advice
If a letter feels like it will take too long, another option is creating an anchor chart or bulletin board for gathering advice. This year I didn't have time for letters, so I just put two questions on the board on the second to last day. They wrote their answers, I took pictures, and next year I'll add them into one of my slides for the first days of school! (Bonus: I didn't have to collect anything or try to remember to save it!) Not fancy, but got the job done and their answers were helpful and a little hilarious.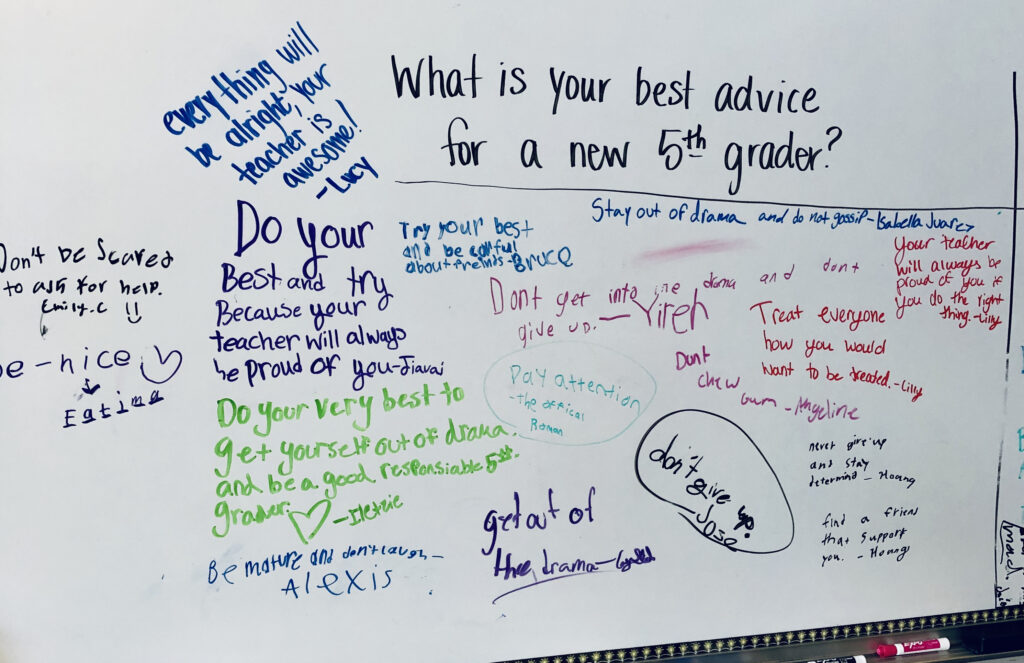 End of the Year Reflections
Along with giving advice to next year's students, I also like to get feedback from my students about their academic year. I usually choose 3 days (a little spread out) towards the end to do a reading, writing, and math survey. (They do a weekly reflection too, but these are more specific to their academic subjects.) I usually give these surveys 3 times a year.
The end of year surveys are my favorite, because they are usually the most honest and I just enjoy reading their reflections on the year! Before they start, I let them know that I value their feedback and I use it to improve for the following year. These typically take between 20 and 30 minutes to complete – they can be easily assigned through your LMS or you can print them and collect a paper copy. You can click the picture to take you to the reading survey.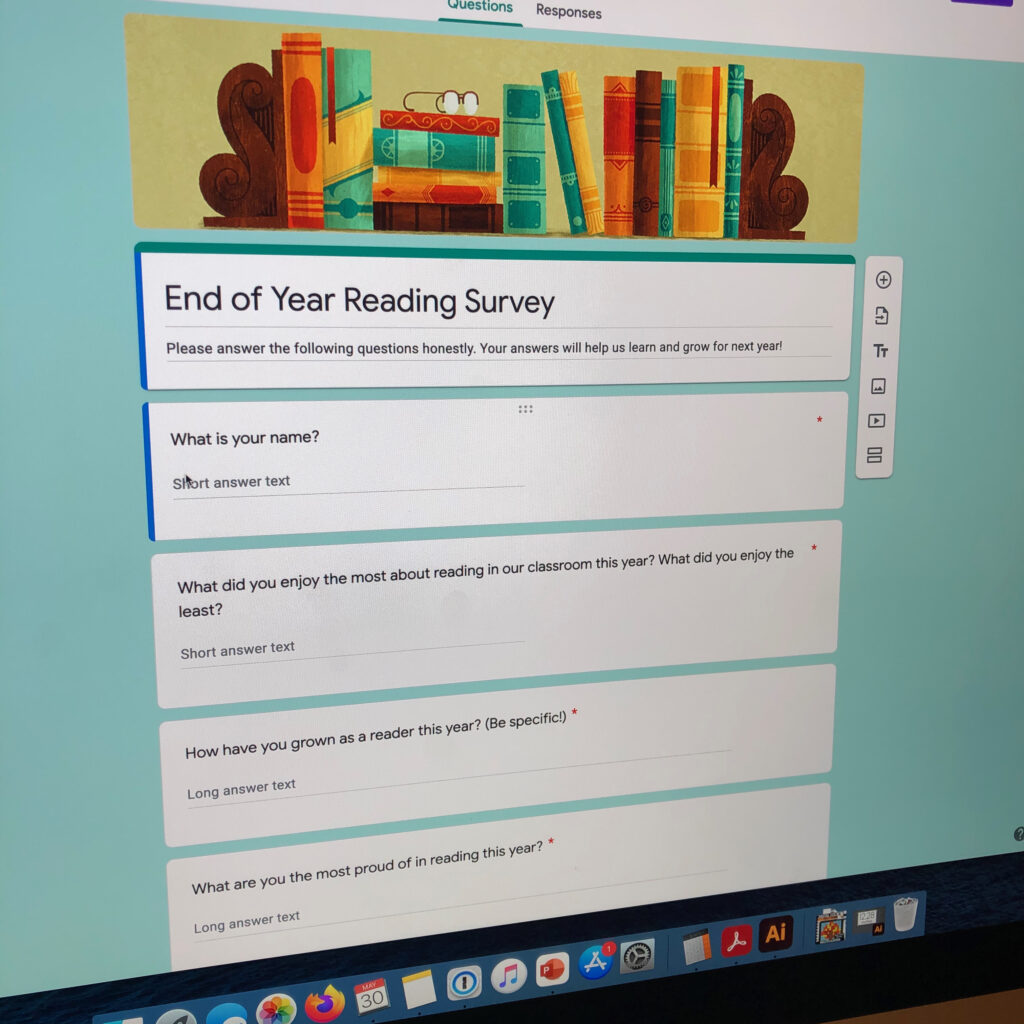 Clean and Organize
This one definitely depends on a few things:
How old are your students? (older = slightly better organization)
How comfortable do you feel with kids organizing and cleaning?
What jobs do you need done?
I have come a long way in my ability to give up control – mainly because I got tired of being the last one cleaning and packing on our teacher check out day! I wanted to go home earlier. So I made a list of jobs I felt comfortable letting kids help with, and then they can volunteer when they are done with their work. Letting kids help saves me a lot of time at the end of the year! Here are some things they might do:
Testing markers to see if they work
Cleaning and organizing book bins
Removing posters and bulletin boards
Passing back any leftover papers
Reorganizing student supply cabinets
Wrapping and sanitizing classroom headphones
Clean desks, counters, bookshelves and surfaces with a wipe (if your school allows it!)
And anything else I (or they!) can think of
Concept Maps
Concept maps are an engaging activity that help students reflect on what they've learned throughout the year. My class was super into it and it was fun watching them work in groups and discuss all the things they learned. They used their notes, journals, memories, and work to help them remember everything from throughout the year. I've done this on chart paper, construction paper, and even plain lined paper – just depending on what I had on hand.
The basic idea is this:
Put the subject in the middle
Each branch is something we've learned in that subject – big topics, and then smaller ideas within the topic
Use lines and arrows to connect ideas that go together
Optional: write how they are connected on the line
Check out more details about how I used concepts maps in science here!
Memory Books
One thing I try to make time for is our end of the year memory book. These are a quick and easy time filler. They only take time to print and staple. (But if you are a last minute Lucy like me, there is a digital version that requires no prep.) They are perfect for reflecting on the year, getting signatures from friends and teachers (they can share them through Google as well), and make a great keepsake!
I assign their memory books about a week before school gets out, and then they can work on them whenever they have free time. I do give them time to work on them as well, but they are a nice activity for fast finishers or that extra 10 minutes you aren't prepped for! (These can be printed as half sheets, or full sheets from the Google slides – that's the version you see below! You can also assign them through your LMS to go completely paperless.) You can grab this memory book by clicking here.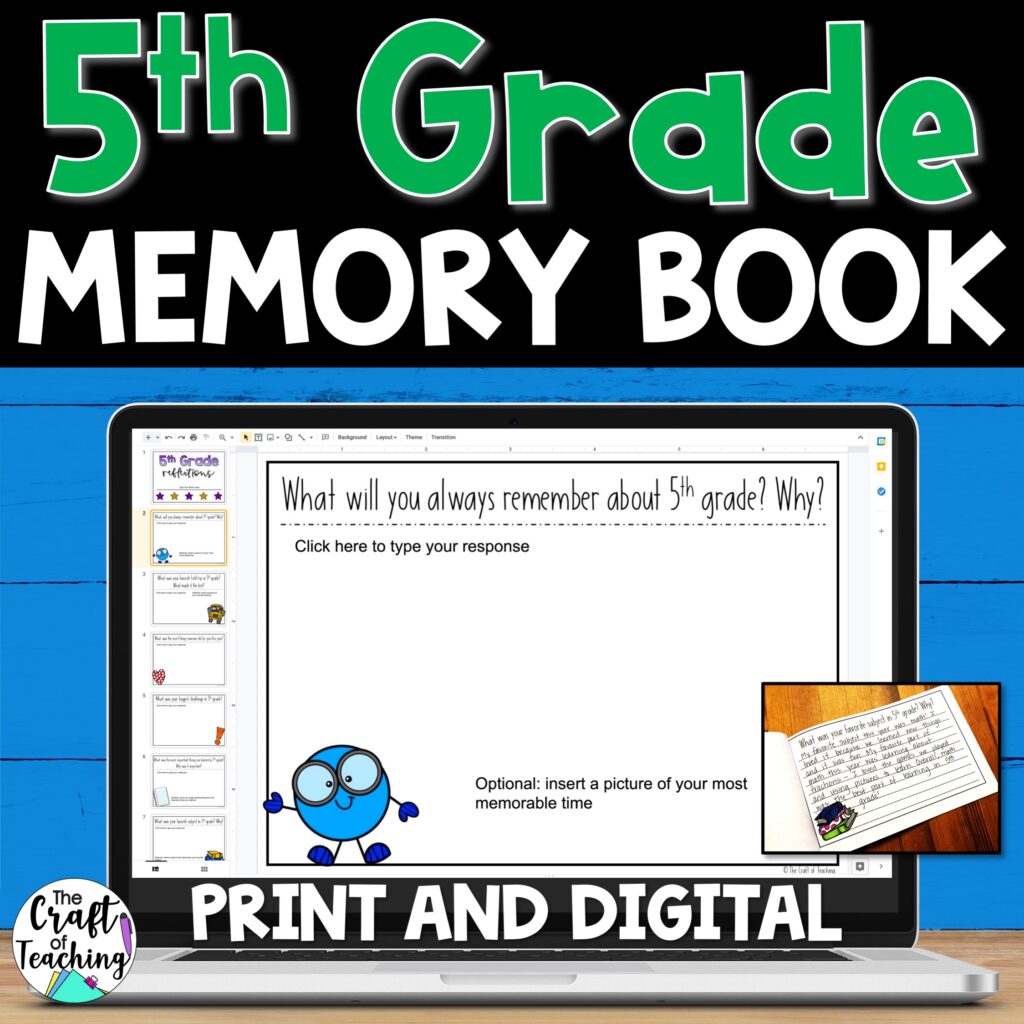 END OF YEAR WORD SEARCH
If all of these feel like too much work, I totally get that too! The end of the year is exhausting and sometimes you just want a little peace and quiet. This word search is the perfect way to get your class engaged and quietly working – hence leaving you alone for a few solid minutes! 🤣🤣🤣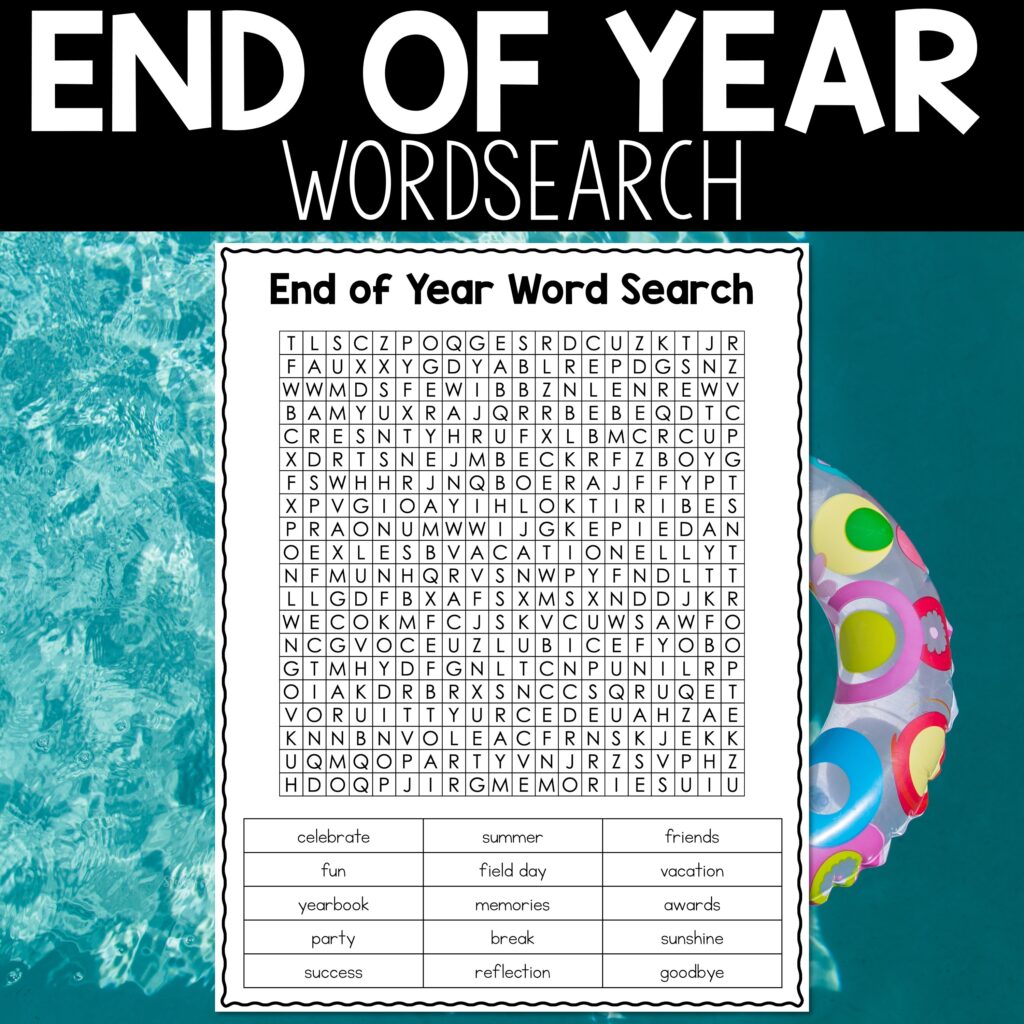 COLLABORATIVE POSTER
A collaborative poster is super easy and a great way to fill time at the end of the year. My students made this end of year collaborative poster as a decoration for continuation and it was a big hit! Every student contributed one piece and parents loved seeing how they all came together. As you can see they all put their individual spin on their own piece – I love how it turned out!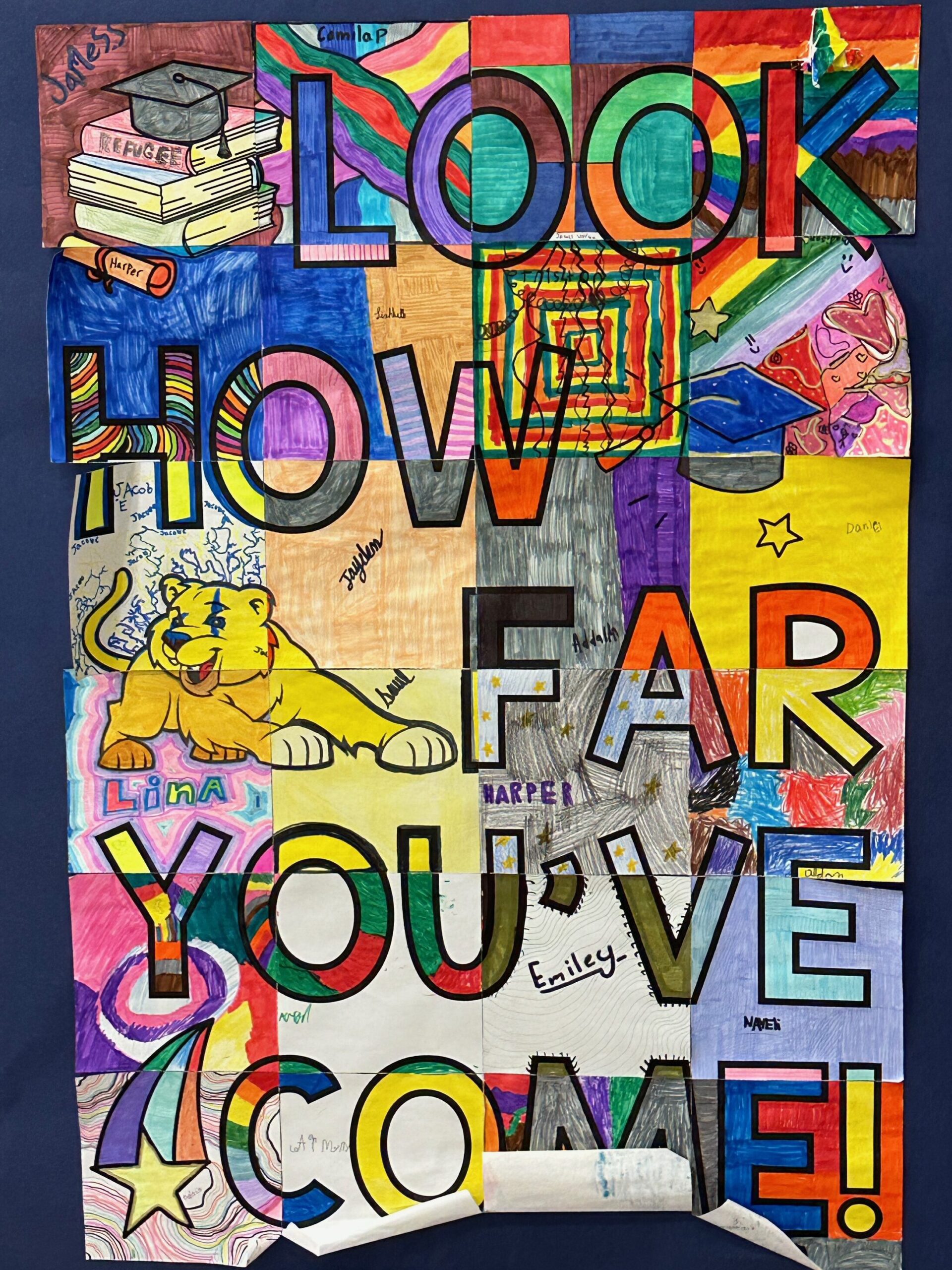 The poster above was custom designed for my class, but you can grab a similar one right here.
SAVE TIME AND MONEY
If these activities seem like just what you are looking for, you can grab all 4 TpT resources in one money saving bundle! Save yourself 30% and have 4 ready to go activities in your back pocket to save you time in the last few days or weeks of the year.
Easy Activities for the End of the Year
I hope these activities make it a little easier to get through the end of the school year! If you have any questions, let me know if the comments – or share your favorite easy-peasy end of the year activity.
Want more ideas straight to your inbox? Join my mailing list and receive one newsletter a week, exclusive freebies, teaching tips, and more! Be sure to poke around the blog a little for more ideas you can use with your upper elementary students.
Happy almost summer, teacher friends!