It's time to head back to school! Last night, I was up late thinking, "Uh-oh. What are we doing when the students come back?????" This gets my stomach all jittery and my mind all jumpy. Even though I know that it's still a few days away, I like to start getting my game plan together so at least it's not a punt-o-rama when their smiling faces walk through the door. 
So, I thought about my first day back with kids. What are we going to do? 
I usually like to start out with something familiar and routine so that everyone can ease back into their days. Every year, I introduce my class to the 3-2-1 Graphic Organizer in the first few days of school. This is certainly NOT an original idea, but I have no idea where it came from. (Maybe someone can enlighten me, so I can give credit where credit is due?)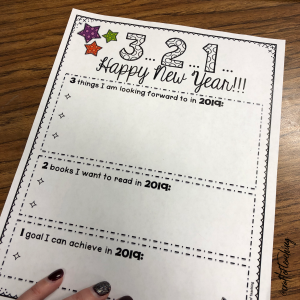 The idea is to organize everything into a simple structure so students can quickly think of a few ideas! In this case, 3 things they are looking forward to in the new year, 2 books they want to read, and 1 goal they can achieve. Most of the time, my students ask if they can add more goals, and I always say yes. They can add them on the back! 
On this particular assignment, I'm not super picky about what they write. They can be looking forward to school things, or things outside of school. If they want to choose an outside of school goal, I just ask that they also think of a school goal. The whole process takes about 15-20 minutes, and I always collect them to see what my students are thinking. 
If you think it would be useful to you, you can click the picture and grab it for FREE!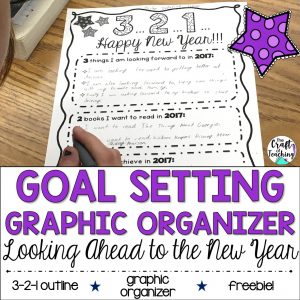 Enjoy your first day back with students!