Are you ready for Christmas in July??? We have two awesome events going on – dollar deals on TpT AND a HUGE giveaway!
Next up, it's a HUGE Christmas in July giveaway!! If you are in need of a little pick-me-up from the craziness going on in the world, check out this amazing giveaway. Read the details below and use the Rafflecopter to enter!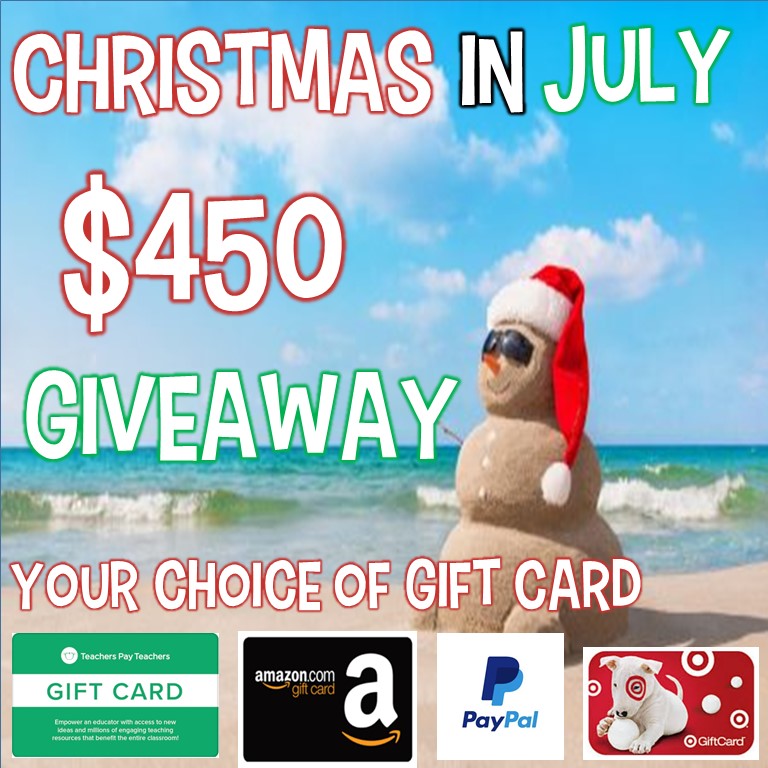 GIVEAWAY DETAILS:
Prize: $450 Gift Card of your choice, TpT, Amazon, Target, or PayPal.
Giveaway Organized by: Kelly Malloy (An Apple for the Teacher)
Co-hosts: An Apple for the Teacher, Jackie Crews, Katie Roltgen, Star Kids by Naomi, Teaching in the Heart of Florida, Teaching Superkids, Kovescence of the Mind, The Craft of Teaching, Tracy Smith – Smith's Safari Adventures, Kim Heuer, Right Down the Middle with Andrea, The Colorado Classroom, Kamp Kindergarten, The Best Days with Julie Santello, Julie's Learning Corner, Angelica's Resources, Digging Deep to Soar Beyond the Text, Teaching Ideas For Those Who Love Teaching, MM Bilingual, Patty Rutenbar, Teacher Gone Digital, Teaching Math and More, Minute Mommy, Roots and Wings, Amazing Materials for You by Amy Dickson, Mrs Davidson's Resources, Marianna Monheim- It Happened in 3rd, TheBeezyTeacher, Learned Lessons LLC, The Froggy Factory, It's a Teacher Thing, 180 Days of Reading, In the Land of Teaching, Mickey's Place, 2 Scoops of Kindergarten, The Butterfly Room- Stacy Ryan, A Pea in a Primary Pod, Profe 'Zulita, Oceanview Resources, The Homeschool Style-Katie Ring, Ever Joyful, Angie S, LittleStreams, Whimsical Wheelerland, Cupcakes and Chalkboards, The Literacy Library, and Off the Page.
a Rafflecopter giveaway
Rules: Use the Rafflecopter to enter. Giveaway ends 8/1/20 and is open worldwide.
Are you a Teacher Blogger or Teachers pay Teachers seller who wants to participate in giveaways like these to grow your store and social media? Click here to find out how you can join our totally awesome group of bloggers!
Thanks for much for stopping by! Enjoy the deals and good luck on the giveaway!