I am seriously torn today.
On one hand, I am so glad it's February, because that means we are that much closer to spring. I am tired of cold and ready for it to be warm and sunny…
On the other hand, HOLY CRAP IT'S FEBRUARY!!! Where is the year going? We are counting down days until our state testing begins and the whole thing is giving me heart palpitations.
Luckily, a new month also means a new CURRENTLY so I can get my mind off testing and do something fun! As always, thanks to Farley at Oh Boy! 4th Grade for hosting such a great linky. I love to see what other people are up to!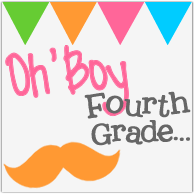 Make sure you click over there to link up and check out all the Currentlys!
Oh yes. And tomorrow's the Super Bowl. I am still smarting like crazy a little since the Broncos did not make it all the way. But…I will watch. The commercials at least. And I will dream of next year.
Since I'm not completely interested in the football itself tomorrow, I imagine that I will be shopping like crazy over at Teachers Pay Teachers! I'm sure many of you already know that there's going to be a mega sale with tons of sellers participating…including me!
SIDE NOTE: I only have ONE thing for sale in my store. But if you want to go grab my 2D Quadrilaterals Shape Sort for 28% off, tomorrow's the day!
And last but not least…I have it on good authority (from our fabulous Kindergarten teacher) that Friday is the 100th day of school. I have always considered this a day geared more towards the little ones, but I have seen so many cute ideas for older kids that I just have to give it a go! So stay tuned for some 100th Day fun on Friday!